This is the front of our "Home on the Range, where with beer and amplifiers we play"
The shack is the 2 window room on the top. The rest of the house was only built to hold the shack up at that height.
Click for an enlargement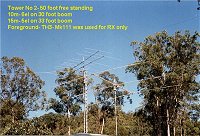 This is a description of the antennas on Tower No2.
Click for an enlargement.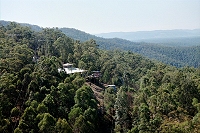 This is a good aspect shot which demonstrates our fantastic "Take Off" due to the sloping foreground effect.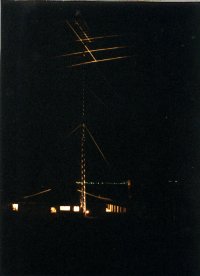 This is a night shot of Tower No1.
If you look closely you can see the city lights on the coastal plain below us.
Yeah...Click for an enlargement